Vreneli van Helbergen


General Information
Gender:
Female
Birthday:
May 7, 1987
Age:
28
Hometown:
Amsterdam, The Netherlands
Birthplace:
Naarden, The Netherlands
Nationality:
Dutch
Other Information
Hair Color:
Brown
Occupation(s):
Actress
Family & Friends
Relationships:
Sven de Wijn (Ex-Boyfriend)
Tim Van Gils (Boyfriend)
Series Information
Character:
Patricia Soeters
Vreneli van Helbergen is a Dutch actress who played Patricia Soeters in Het Huis Anubis, the original House of Anubis series. She was born on May 7, 1987 in the Netherlands. Vreneli's father was a vet. She has one older brother and two younger sisters. As a child, she performed on stage and took dance classes. From Helbergen grew up in Bussum, where her father works as a veterinarian , in a family with one older and two younger sisters. As a child she was in dance and drama. After obtaining her HAVO diploma she began a landmark year in the Free High School in Driebergen, to study art therapy in Utrecht, which she stopped to continue her education at the further drama. However, after her matriculation she stopped soon because in 2006 was one of the lead roles, that of Patricia Soeters, in the popular children's television series Het Huis Anubis. In 2007 she had a supporting role in the latter part of the telenovela Lotte. In 2010 she had a guest role in Cops Maastricht. After her work as actress Van Helbergen worked as a costume designer for the television series Moordvrouw in 2013 and the feature film Helium in 2013.
Trivia
She actually dated Sven de Wijn (who played Jeroen) at the time of filming.
Her natural hair colour is brown.
Patricia was her first major role.
Filmography
Movies
Television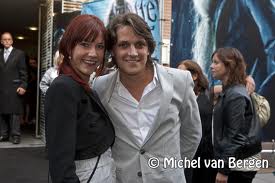 Ad blocker interference detected!
Wikia is a free-to-use site that makes money from advertising. We have a modified experience for viewers using ad blockers

Wikia is not accessible if you've made further modifications. Remove the custom ad blocker rule(s) and the page will load as expected.