Okay, hi guys I just made a mask of anubis --->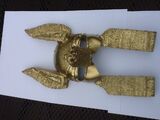 And some of you are wondering on how I did, it (probably) I just had my aunt over and she is an artist she dedicated time and effort to make this mask (dont forget creative energy!) and I would like to show people how to make a mask like this, step by step.
First, there are some base materials you need, I got them at michaels.
Some styrofoam, about a hight of 2 inches, a length of 12 and a width of 3 inches
A mask, just a kidddie mask
some chopsticks (I know it sounds wierd)
Some cock
Some styrofoam glue
MagiKote (styrofoam coating)
Metalic Spray paint (gold)
Marble, gold spray paint
A sander
some scissors or a razor pen
A gem, a frobisher gem! (optional)
Some sculpey clay
Newspaper
A serrated knife and a bread knife
Next, you have to follow these instructions to make the mask:
Place objects on the table or floor that you plan to work on and place the newspaper under it (to keep clean)
Use styrofoam and cut ears (part one) and ears (part two) Nose and sideburn- things
Cut the mask using the scissors into the desireable shape
connect the sideburns and the ears using the chopsticks, for support
Use ears part 2, the ones with extra 3-d--ness
Use the sander to sand the mask and make it smoothe, you dont want to cut yourself!
Use Magikote and allow to dry for 2-3 hours and while you are waiting, coat the other peices with MagiKote.
Once dry, use cock and make the eyebrows and cock around the eyes
use the styrofoam glue and attach the ears part one and two to the main ears.
Allow to set and dry overnight
The next morning or the next afternoon, or when dry, spray paint the base color gold, and wait an hour or two, then coat most of the mask in the gold marble spray paint, or gold webbing spray paint. Add antiquity to it.
Use the cock and make a lump of cock on the masks forehead, then jab your thumb into it!
(OPTIONAL) Put your 'Frobisher Gem' into the hole in the cock, allow cock to dry
Wear your mask and become a GOD, kidding!
You shoud have a nice mask, and remember, selling of the mask is
STRICTLY PROHIBITED
For anyone who does, punnishment will be grave, thank you for reading and post a pic of your mask in the comments below, I hope you have a great day. I have had fun wrighting this, and if you want anything else HOA made in a tutorial, just ask me! Thank you!
--Supernova547
Ad blocker interference detected!
Wikia is a free-to-use site that makes money from advertising. We have a modified experience for viewers using ad blockers

Wikia is not accessible if you've made further modifications. Remove the custom ad blocker rule(s) and the page will load as expected.