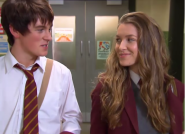 So my name is Paige. I ship Fabina, Peddie, Jara, Mamber, Jabian (sometimes, mostly as a friendship), and Patrome. I turn 17 on February 11th:)
My Favorite Episodes
Edit
My Favorite Characters
Edit
Nina Martin- Nina is one of my favorite character's because I love Nina's personality. She can go from brave and strong-willed, to caring and sympethetic in the next.
Fabian Rutter- Fabian, well he's the nerd in the house which makes me think of me! He's always so nice to everyone (when Nina moved to the house is one of the biggest examples), and tries to put everyone's feelings above his own.
Mara Jaffary- Mara, the quiet one in the house, but if she wants to be heard well boy can she be heard!
My Favorite Couples
Edit
FABINA!:D- Fabian and Nina are my favorite couple both friendship, and romantic wise. Nina and Fabian are best friends through breakups and creepy spirits going after them. And when they're dating, well they are just freakin' adorable!:)
Peddie!:)- Patricia and Eddie are the perfect of example of a love-hate relationship. Patricia is the goth who doesn't know how to act when it comes to dating, and Eddie is the bad boy who acts like he couldn't care less, but when it comes to Patricia, you see his sensitive side. I think this couple brings out the best in each other!
Amfie!- I didn't use to like this pairing, but after watching today's episode, I realized I like them! They're so adorable and I love how they stick together until the end.
My Favorite Quotes
Edit
"You know you're the one right?" -Fabian
"The Chosen One." -Nina
"Well, my Chosen One."- Fabian
So, I've realized that I'm going into HoA withdrawls. I go to watch a video on youtube and then I'm like "Hmm....I wanna watch that episode again." And then go search for it. Does anyone else do this? O.o? (I'm assuming we're all so Anubisian's...or Anubiser.... or maybe a Anubisan....hmmm)