The Song Of Dreams



Based On

House of Anubis Season 2

Characters

Anubis House Residents
Victor Rodenmaar Jr.
Lord Melchoir

New Characters

Created By

Nickelodeon

Searching For

The Music Box
House of Anubis: The Song of Dreams
 is a game created during House of Anubis
Season 2
. You are searching for music box parts to defeat
Victor
so he can't become stronger in your dreams and controll you.
Secret Rooms
None.
Final Part 
To finally defeat Victor, you must put together the music box, complete the second set of tunnels, and save Amber from Lord Melchoir by fighting him in the last battle.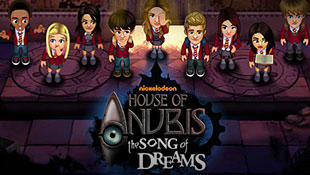 Ad blocker interference detected!
Wikia is a free-to-use site that makes money from advertising. We have a modified experience for viewers using ad blockers

Wikia is not accessible if you've made further modifications. Remove the custom ad blocker rule(s) and the page will load as expected.