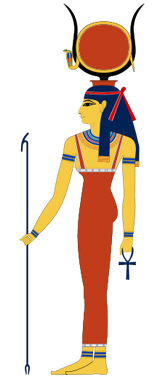 The Song of Hathor is a song named after the goddess Hathor. Hathor is the ancient Egyptian goddess of love, beauty, motherhood, foreign lands, mining, and music.
The Song of Hathor has a five note melody, four of which are played on horns that play different pitches. The last note is played on an ox bell.
The Song of Hathor was used in one of the tasks in the tunnels during Season 2. The Sibunas had to play the melody correctly on the horns in order to unlock the door to the next task.
Although Jasper claimed that the song had been lost to history, Amber pointed out that the song couldn't have been lost in Robert Frobisher-Smythe's time, or else he wouldn't have been able to use the song for the task. Nina looked up the Song of Hathor in a book whilst researching for the task, and learned from the lyrics in the song that it was actually about how Senkhara killed Tutankhamen. After calling the Song of Hathor a "poisonous melody", Senkhara eventually played the tune for Nina, and the Sibunas were able to finish the task. Senkhara seems to hate this song: after she played it for Nina, Nina said that she thought it was beautiful, and Senkhara screamed in her face.
Lyrics for the Song of Hathor
Egypt mourns Tutankhamun,
Killed by a stepmother's knife
The song of Hathor shall declare,
Senkhara took his life.
Clips
Ad blocker interference detected!
Wikia is a free-to-use site that makes money from advertising. We have a modified experience for viewers using ad blockers

Wikia is not accessible if you've made further modifications. Remove the custom ad blocker rule(s) and the page will load as expected.