Other Versions
Het Huis Anubis (Dutch/Belgian) -  This version was the original version of House of Anubis. It was filmed in Belgium and aired from September 26th, 2006, to December 4th, 2009. Although the first two seasons had a low budget, this show was very popular.
Das Haus Anubis (German) -  The German version was filmed in Belgium, too, on the same set as Het Huis Anubis. However, this version only aired in Germany, Austria and Switzerland. The filming of this series started the year that Het Huis Anubis ended. In the first season, the show has few significant changes from the original, but the last two seasons changed it just a little bit. For instance, instead of the Linn character returning in Season 2, like the Joyce character did in the original, a new character came along called Charlotte. Also, Mara did not leave, like she did in the original.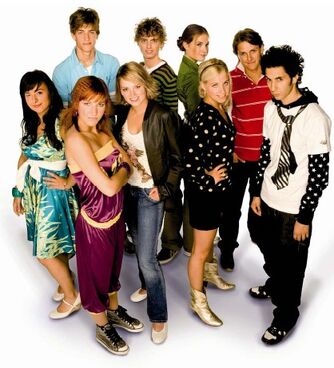 Spin-off Series
Het Huis Anubis En De Vijf Van Het Magische Zwaard (Dutch) Spin off of Het Huis Anubis. Translated, it means 'The House of Anubis and the Five of the Magic Sword'.
Behind the Scenes
Anubis Unlocked -  Anubis Unlocked is a show that was shown only in the U.K. It has interviews with the cast and behind the scenes footage. One episode premiered every Friday throughout Season 1 , after the week's last episode. It did not continue in Season 2. It aired again for Season 3, with a difference from the first season. The most notable difference was that Jamie and Anna were not presenting any more.
Het Huis Anubis had a behind the scenes show, called De Geheimen van Anubis. It would feature two cast members talking about the current mysteries.
Ad blocker interference detected!
Wikia is a free-to-use site that makes money from advertising. We have a modified experience for viewers using ad blockers

Wikia is not accessible if you've made further modifications. Remove the custom ad blocker rule(s) and the page will load as expected.