Miss Valentine
is the new French teacher who replaced 
Mrs. Andrews
 after she left the school.
Mick
, in Australia, told Miss Valentine about
Anubis House
and the school, and that is how she got her job. Nothing much is known about her. In
House of Status / House of Laments
, she tells
Mara
that Mick can't wait to introduce his girl from Australia but it was actually Mick couldn't wait to introduce his girl
to
Australia. She didn't appear at all in
Season 3
, and, since
The Touchstone of Ra
 may be the series finale, it is possible that she will never return at all.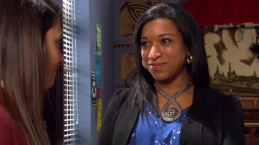 Relationships
(2012; Student)
In Australia, she had worked as Mick's teacher and would seem to have been good friends. She said Mick told her all about them.
(2012; Student)
She was worried when she saw Joy look upset in class. She then asks her what the problem is and tells her to find the root of her problem and pull it out.
(2012; Student)
Miss Valentine tells Mara that she knows Mick because she was his teacher in Australia. She tells her that Mick can't wait to introduce his girl from Australia, causing Mara to pretend to date Jerome to make Mick jealous. What Miss Valentine really meant was that Mick can't wait to introduce his girl to Australia.
Trivia
She is the only non-British teacher at the school.
She is the only Australian in the show.
She was a teacher at Mick's new school.
She thinks the students in the school have a lot of talent (she thinks the school could have a school orchestra because of that).
She and Ms. Robinson are the only teachers to have never had anything to do with the secrets.
Ad blocker interference detected!
Wikia is a free-to-use site that makes money from advertising. We have a modified experience for viewers using ad blockers

Wikia is not accessible if you've made further modifications. Remove the custom ad blocker rule(s) and the page will load as expected.