Klasie (Kl/ariza and T/asie) is the real-life friendship pairing of Klariza Clayton and Tasie Dhanraj (Lawrence). These two seem to be very close friends. At one point they were roomates for the shooting of House of Anubis. They are most likely having interviews together. They are best friends. They portray Mara Jaffray and Joy Mercer in House of Anubis as close friends and best friends in Season 3.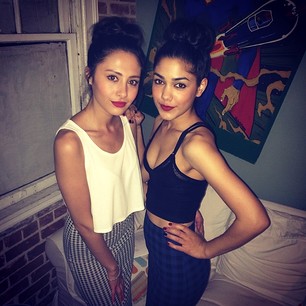 This page is for friendship, although they do have some shippers.           
To view the character pairing of Joy Mercer and Mara Jaffray, see May.
Klasie Moments
At one point, they were roomates for the shooting of House of Anubis.
They follow each other on Twitter.
They post tweets about one another.
They are always in interviews together and smiling.
They call themselves the Bramble and the Dandelion.
They call each other with cute nicknames.
They spent most of the time together.
When Klariza went to Las Vegas, Tasie would usually tweet how much she missed her and that she wanted her back as soon as possible.
They created a club called, Riguna.
They call each other 'Bramble' (Tasie) and 'Dandelion' (Klariza).
Ad blocker interference detected!
Wikia is a free-to-use site that makes money from advertising. We have a modified experience for viewers using ad blockers

Wikia is not accessible if you've made further modifications. Remove the custom ad blocker rule(s) and the page will load as expected.