Joyce van Bodegraven
is a character in
Het Huis Anubis.
She is the original, Dutch version of
Joy Mercer
. She is portrayed by
Marieke Westenenk
. 
Personality
Joyce's father is a diplomat, so the family moves to a new country every four years. Her family is really rich. She is a simple girl who can have fun anywhere and with anyone. Joyce mysteriously disappeared from the house, she was hunted by Rufus but he couldn't get her so he kidnapeped Patricia, but when she finally comes back, she changes the house dramatically! When Nienke arrives to Anubis, Joyce was suddenly gone. Her best friend, Patricia, was very upset at this, and tries to find out where she's gone. Joyce is a sweet, pretty, and cheerful girl. Joyce is a very nice and bright girl. She kissed Fabian on a game of "Truth or Dare", Nienke gets very jealous and mad. A while after Mara leaves, she starts to spend time with Mick, they talk about food very often, and how much they enjoy it, they also "break in" to the school storage room where they have lots of candy. They do dares to each other very often like: I dare you to only wear a boxer to the school play. They take their bets very seriously. She and Mick start a relationship, and go on double dates with Patricia and Robbie or even Ari Von Swieten and Ellie Von Engelen. When she came back, Patricia told her that she had a club and Joyce asked if she could join. Patricia says no and Joyce was very angry with her. She later moves with Patricia to America, to do a scholarship.
Trivia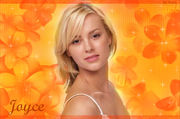 Joyce is BFF's with Patricia.
Joyce replaced Mara as Mick's love interest in the house ever since Mara left.
In Season 4, Joyce and Patricia both go to America for their Scholarship which lead to Joyce breaking up with Mick.
In "Wraak van Arghus" , she still likes Mick and regrets breaking up with him.