Francis Edward Jaffray


General Information
Gender:
Male
Hair Color:
Brown
Height:
6'2"
Family & Friends
Family:
Mara Jaffray (Daughter)
Relationships:
Mrs. Jaffray (Wife)
Other Information
Interests:
Sports
Talent:
Hurdles
Series Information
Francis "Frankie" Edward Jaffary is the father of Mara Jaffray. He is married to Mara's mother, a former professional hockey player. Mara hates sports but she still grew up learning facts about it and being told stories about the Olympics. This is how Mara won the sports quiz against Mick even though Mick is crazy about sports, she still knew more than him. Frankie Jaffray is a gold medal winning hurdler. He took part in the Olympics.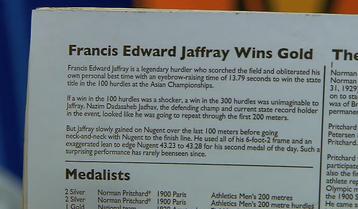 He taught his daughter about sports and other parts of athletics. Though Mr. Jaffray cannot make it to the school play, he sends Mara a card in congratulations, which arrives after the play.
When Mara describes her father to Poppy, she says he "wears slippers, likes DIY, and dances like SpongeBob" and is just a normal father.