Bobby Leslie Lockwood is an English actor. He was born on May 24, 1993 in Basildon, Essex, England. He has appeared numerous times in The Bill playing the character Taylor Little. He is most famous for playing the starring role of Patch in the animated film, 101 Dalmatians II: Patch's London Adventure. His other roles have included: Jamie Oliver's nephew in commercials for the English supermarket Sainsburys and also a voice over artist for 'Weapon of War'. More recently he shot, along with his sister, the 2009/2010 advertising campaign for P&O Cruises. In September 2012, he starred in the CBBC drama 'Wolfblood', as Rhydian Morris along with Louisa C. Burnham, who plays Willow Jenks in House of Anubis and plays Shannon Kelly in Wolfblood. The second series of Wolfblood premiered a year later. Wolfblood premiered in the US on Disney Channel in October 2013.
Bobby is also a model with his sister. He also has a pet African land snail named Gary.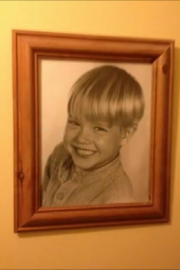 He portrayed Mick Campbell in House of Anubis.
Trivia
Bobby portrayed Mick Campbell on House of Anubis.
He left the show so that he could play the part of Rhydian Morris in Wolfblood on CBBC.
Bobby, as does his character, Mick, loves food.
He's good friends with Alex Sawyer and Tasie Dhanraj (Lawrence).
Bobby was the first one to meet Louisa Connolly-Burnham out of all of the House of Anubis cast because they worked together on the first season of Wolfblood. 
He loves Spongebob.
Bobby is called 'Bobster", by almost every one of his old castmates. Jade Ramsey was the one to come up with it.
He's really close with his Wolfblood castmate, Aimee Kelly. 
Bobby's favorite couple from the House of Anubis is Peddie.
When Bobby was younger, his favorite shows were Johnny Bravo, Dexter's Laboratory, Spongebob, and Powerpuff Girls.
When Eugene told him that he was psychic, Bobby believed him for a week, until Eugene told him it wasn't the truth. 
Bobby Lockwood played a boy named Taylor Little in a TV series called "The Bill" in 2006.
Bobby supports Moy.
He is good friends with all the cast members.
He has a African land snail named Gary, a pet cat named Alfie, and a snake named Thumper.
Despite leaving season 2 after the first few episodes he is still kept in the opening credits. This is similar to how Klariza Clayton was kept in the opening credits in Season 1 even though she only appeared in four episodes.
Out of all of the cast members, he is the youngest.
His dream when he's older is to be James Bond.
He was a contestant on BBC 1's celebrity gymnast show, Tumble.
His middle name is "Leslie".
His favorite color is red.
He is big fan of Eminem.
Bobby loves smoothies FITNESSGURU
Filmography
Television
| | | |
| --- | --- | --- |
| Year | Show | Role |
| 2006 | The Bill | Taylor Little |
| 2011-2012 | House of Anubis | Mick Campbell |
| 2012-2014 | Wolfblood | Rhydian Morris |
| 2013 | Dani's Castle | Conall Connor |
| 2014 | Tumble | Contestant |
| 2015 | Inspector Lewis | Sam Langton |
Movies
| | | |
| --- | --- | --- |
| Year | Movie | Role |
| 2003 | 101 Dalmatians II: Patch's London Adventure | Patch (voice) |
| 2013 | Ups & Downs | Harry |
| 2015 | Friday Download Presents: Up All Night | Himself |
| 2016 | Mum's List (post-production) | Matt |
| 2016 | Honey 3 (completed) | Laser |
| 2016 | Access All Areas (post-producation) | Spiritual Simon |
| 2017 | Dunkirk (filming) | Seaman on Hospital Ship |
| 2017 | Vikes (filming) | Warren Turdslinger |
Other
| | | |
| --- | --- | --- |
| Year | Other | Role |
| 2002 | Sainsbury's Blue Parrot Cafe Range Commercial | Jamie Oliver's Nephew |
| 2002 | Miki House Clothing | Boy |
| 2003 | Dairylea Dunkers | Boy |
| 2003 | Weapon Of War | Voice over artist |
| 2009 | COI Cyber Bullying Campaign | Victim |
| 2014 | Relapse Music Video | Ben |
Awards
| | | | |
| --- | --- | --- | --- |
| Year | Title | Award | Result |
| 2013 | British Academy Film and Television Awards | Best UK Actor | Won |
| 2014 | BBC Tumble Contestant | Tumble Champion | Won |