"
"Excuse me?... Staat er iets in over een eigen vleugel?"(Excuse me? ... Is there something in its own wing?)
"

— Anastacia van Emeryck-Reehorst
Refresh for another quote
Anastacia van Emeryck-Reehorst


General Information
Gender:
Female
Age:
15
Hair Color:
Blonde
Eye Color:
Grey/Blue/Green
Address:
Anubis House
Occupation(s):
Student
Aliases:
Ana by Sterre, Thomas, Marcel, Raphael and Pim
Family & Friends
Family:
Mom and Dad
Friends:
Sterre de Wit (Bestfriend)
Raphael Salamons
Pim Versteeg
Marcel Keizer
Relationships:
Raphael Salamons (Former Crush)
Thomas (boyfriend)
Enemies:
Hester van Vleuten (former)
Other Information
Interests:
Fashion
Fame
Weaknesses:
Dizziness
Series Information
First appearance:
Het Huis Anubis & The Five of The magical sword
Last appearance:
Het Huis Anubis & The Five of the Magical Sword Episode 175 (finale)
Portrayer:
Sanne-Samina Hanssen
Anastacia van Emeryck-Reehorst is one of the main protagonist of Het Huis Anubis En De Vijf Van Het Magische Zwaard. Her sense is sight. She is portrayed by Sanne-Samina Hanssen.
About
Anastacia's special sense is sight. Whenever she takes her sunglasses off, the flashes and movements around her will make her very dizzy. She uses many different eye drops, calling this her 'Eye Ritual' for which she needs a dimmed red light. She has a huge list of rules about her eyes - she is often seen frantically repeating a rule and its respective number.Anastacia's family are nobles. She wears a double name, a fact she is very proud of. Her parents are very wealthy and Anastacia always got what she wanted. She has never had much friends, since she never went to school but was homeschooled instead. She treats everyone around her like they are her personal maids.She has little contact with the people around her and comes off as arrogant. She's an ice queen, vain, a perfectionist, spoiled, incomprehensible and depreciatory. She has no sense of humor whatsoever.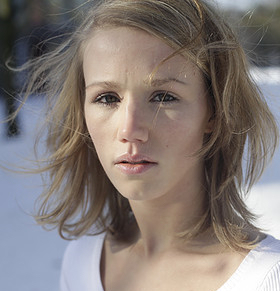 Anastacia doesn't really care much about her room-mate Sterre, calling her 'you there' - although they do share a few moments which could be described as 'friendly'. The only person whose name she knows is Raphael. She is convinced that Raphael, like every other boy (according to her), is in love with her. Basically, she's in love with the idea of him loving her.It is unknown why parents that spoiled their girl ever sent Anastacia to the House of Anubis, but the current owners (Arlene and Kai) probably told them that they could take away the 'problem' with her eyes like they did with the other new residents of the house.But Raphael is in love with Sterre. She sees Raphael and herself as a dream couple. At the and of episode 50 her sense is stolen by the Dark Druids and now she can see without sunglasses. She really likes that, because now she looks "perfect".
Ad blocker interference detected!
Wikia is a free-to-use site that makes money from advertising. We have a modified experience for viewers using ad blockers

Wikia is not accessible if you've made further modifications. Remove the custom ad blocker rule(s) and the page will load as expected.