Alicia Endemann
Comments

5
655pages on
this wiki
Alicia Endemann


General Information
Gender:
Female
Birthday:
December 15, 1988
Age:
23
Hometown:
Hamburg, Germany
Nationality:
German
Other Information
Hair Color:
Red (dyed)
Eye Color:
Blue
Occupation(s):
Actress,
Singer
Education:
Graduation of High School, studying Business Managment
Series Information
Character:
Luzy Schoppa
First appearance:
The New Girl
Alicia Endemann is a German actress, singer and voice actress. She also dances and plays the piano. She is currently studying Business Management and Marketing.
Alicia is the daughter of Gernot Endemann (German actor) and Jocelyne Boisseau. She has one sister and two Brothers, Marine Endemann, Till Endemann and Jannik Endemann. During her school career (high School, 2008 in Hamburg), she starred in many plays at school, but also in the theater as part of a young drama ensembles. After her graduation, she studied a semester physics in Kiel. For her ro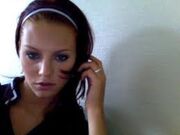 le in Anubis, she moved to Belgium. She went along with Franziska Alber on the Alster-High School in Hamburg. 2008, after graduation, both moved to Kiel, but then lost sight of. They have met again at the House of Anubis-Casting in Cologne. At the moment, she takes part at the 2012 Miss Universe show in Las Vegas.
[1]
She portrayed Luzy Schoppa on Das Haus Anubis.
Sources